Plastic Recycling Certifications and Recycling Tests
All you need to know about plastic recycling certifications and recycling tests
Of the challenges faced by the plastic recycling industry, the lack of a standardized recycling certification system highly influences the ability to buy and sell recycled materials. Not only does the variety of programs to choose from make it difficult to judge the value of all the different types of plastic recycling certifications, but it also typically requires some sort of recycling test, which ends up being a significant investment for recyclers. For a supplier to be able to sell a product such as certified recycled LDPE, they must first choose among the many certifications available: ISOs, RecyClass Recycled Plastics Traceability Certification, UL Component Recognition Program for Recycled Plastics, DNV GL Ocean/Water Body Standard, Global Recycling Standards (GRS), REACH Certification, Flustix Seal, Zero Plastic Ocean's Ocean Bound Plastic Recycling Sub Program, and EU Certplass certifications among others. The different programs can have a variety of focuses, with some more geared towards the recycling process, and others towards the quality of the product compared to virgin resins, or the labor conditions.
The role of recycling certificates and why they are needed
Recycling plastic certificates serve to add value and trust to the recycled product or company managing the plastic recycling process. While these serve as a tool against greenwashing for manufactures to trust that the raw materials meet their requirements and are truly recycled, more certifications also means higher costs and potentially less recycled plastic because of it. Suppliers may not be able to finance the certifications that are in demand due to lack of infrastructure, causing manufactures to opt for virgin plastic instead. Thus, although they can be an insurance policy, the inconsistency and multicide of certifications in the market leads to audit fatigue among suppliers who are already struggling to compete in the emerging industry of plastic recycling.
How to get a plastic recycling certificate
There are different routes to go about certifying recyclable and recycled materials for businesses. Plastic recycling companies can work directly with the certification providers or work with third party testing and consulting groups to go through the process. One of the more common certifications is the Association of Plastic Recyclers Certification (APR). This certification has three components to it: APR endorses third party companies to conduct certifications, reclaimers can hire these companies to conduct certifications, and APR promotes a listing of certified PCR available from APR member reclaimers. Third parties that conduct these certifications must be knowledgeable about plastic recycling and the specific certification and have usually obtained a course such as the national certification in plastics (ncp).
What are the certification standards for recyclables?
The most common plastics certifications can vary by country and region. Some standards such as the different ISO standards are largely global and mainly check for environmental management standards and claims. For example, ISO 14001 checks if all legal and compliance requirements are being met, environmental objectives have been assessed and set, internal and external and outsourced processes have been defined, and any training requirements have been assessed, implemented, and reviewed. In Europe, EUCertPlast is most well know. It focuses on the traceability of plastic materials throughout the supply chain, recycling process, and the recycled content quality in the product. Complementary to the EUCertPlast recognition is the RecyClass Recycled Plastics Traceability Certification, which guarantees the origins and traceability of recycled materials and uses the percentage-based recycled content calculation approach that is verified throughout the entire value chain.
In the United States, the UL Recognition system is very well known. It tests post-consumer recycled plastic materials to UL 746D (Standard for Safety for Polymeric Materials - Fabricated Parts). This testing process is used to assign recycled plastic the same ratings as virgin resin within the same product category. This then allows recycled plastic to be substituted for virgin material for end-use applications. The UL Recognition involves three parts for plastics such as PS: initial certification, quality assurance (QA) program, and follow-up inspection visits. Another certification that shows promise is the Recycled Material Standard (RMS) by GreenBlue. It provides third-party certification and chain-of-custody tracking of recycled materials, including distinction between post-consumer and post-industrial materials, to help ensure that recycled content claims are complete. It also utilizes mass balance accounting, to provide a mechanism for tracking materials through scaled-up chemical recycling, and offers additional flexibility for others in the supply chain. Additionally, by creating an environmental commodity, Attributes of Recycled Content (ARCs), the RMS enables funding of investments in recycling infrastructure. These ARCs quantify investments in terms of the tons of material reprocessed, thus enabling brands to place their investments in recycling on the same scale as their direct use of recycled content. This is done with the aim that even when recycled materials meeting their technical requirements are not available, brands can help move recycled materials through the economy and show their commitment to circularity and sustainability.
When it comes to Ocean-bound or ocean plastic, some standards are more geared to those specific qualities. For example, the DNV GL Ocean/Water body Standard certifies the chain of custody of abandoned plastic by checking for material integrity (ensuring that nothing has been mixed in), traceability (location, integrity, mas, and use), and applies a systemic approach (management system in place enables full traceability of material characteristic along the supply chain). Similarly, Zero Plastic Ocean's Ocean Bound Plastic Recycling Sub Program checks that international social and environmental standards are implemented all along the value chain of collection, transformation, and disposal. They also make sure there is no child labor, fair working conditions, fair payments to waste pickers, and adequate waste management.
What are the RCS and GRS certifications?
The Recycled Claim Standard (RCS) is used as a chain of custody standard to track recycled raw materials throughout the supply chain by following the chain of custody requirements of the Content Claim Standard. The RCS certification checks the presence and amount of recycled material in a product through the input and chain of custody verification from a third party. The Global Recycling Standard (GRS) is intended to meet the needs of companies looking to verify the recycled content of their products and to verify responsible social, environmental, and chemical practices in production. It applies to the full supply chain and addresses traceability, environmental principles, social requirements, chemical content, and labeling. The difference between GRS and RCS is that of the two standards, the GRS certificate process is more rigorous compared to the RCS certification verification. The Global Recycling Standard requires a higher minimum content percentage of 50% and the additional processing requirements to check against environmental, social, and chemical standards.
What is a recycling test and why is it so important?
A recycling test proves the claimed qualities of a material made from recycled plastic. It ensures that the method of plastic recycling was successful and verifies the processability of a post-consumer resin material.
What is the recycling test for?
A recycling test has the purpose of determining the impact of a design feature on the processability of a package item as well as the ability of post-consumer resin (PCR) derived from such feedstocks to meet quality specifications for end-use applications. Recycled plastic testing usually combines laboratory test practices developed specifically for recycled materials with standard manufacturing processes and tests for raw materials. It is especially important in plastic packaging that will have food-contact applications.
Verifying product recyclability
An important reason to conduct recycling tests and verify the qualities and quantities of recycled material in product is to measure the recyclability of said product. This is particularly important when it comes to plastic packaging recycling, as it is large source of single-use plastics and plastic materials that aren't often easy to recycle and end up in landfills or the environment. It also applies to different polymers and recycling methods, the quality standards that a TPU material is held to after the chemical process of recycling plastic are the same as those that PET or HDPE material would be held against taking into account the region and available infrastructure. Through this kind of test, the product breaks down and the fibers scatter to be analyzed and see whether the plastic is suitable for recycling.
Testing protocol for PET recycling compatibility
As one of the most widely recycled materials, the PET plastic recycling process involves a well-established recycling test. This protocol evaluates PET or recycled PET packaging solutions and innovations. It evaluates new resin formulations, additives, or non-PET components, which generally end up in the PET plastic recycling stream and that can affect the quality of - or even disturb - the recycling system. This is something that is essential in increasing recycling rates and must expand to other types of polymers such as PVC or HDPE to better inform product design and allow for increased recycling by informing better product design, sorting methods, and collection systems.
Compliance testing of plastic food contact materials
Food grade plastic testing has been well established for virgin plastic but in recent years has expanded to post-consumer resins as technology has advanced and regulations have supported the increase of PCR materials for food-contact applications. This recycling test is essential in growing the sector for food-grade PCR packaging and it is highly regulated. A recycling test examines substances in the plastic and whether they fall under those that are authorized. It also tests for migration of substances from the plastic into the food item to ensure it does not exceed the limit of 10 mg/dm2. For some materials such as PVB, these migration limits may vary depending on the specific toxicity of the individual substance.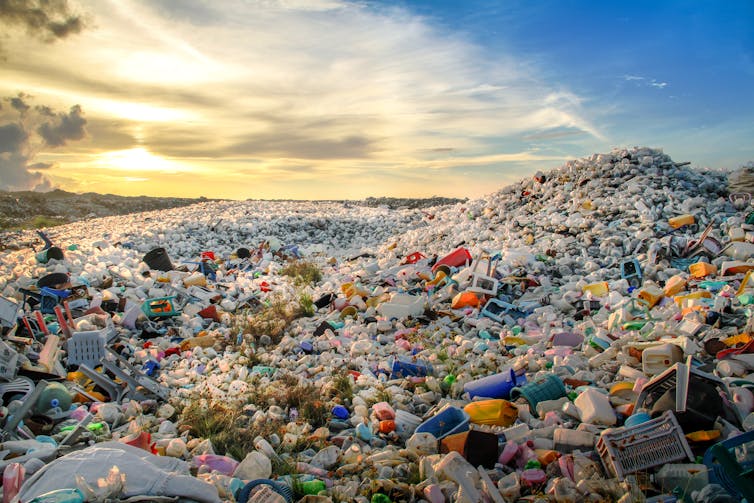 To properly support the scaling of plastic recycling and optimizing the use of recycled materials, action needs to be taken to help ensure traceability and quality assurance. However, this also requires a joint effort to develop the proper infrastracture and mechanisms that are need to continue this development.