Benefits of plastic recycling for business
Economic Benefits Of Recycling Plastic
What are the benefits of recycling materials? In addition to addressing plastic pollution in the environment, one of the benefits of recycling materials like Polyvinyl butyral (or PVB) or ABS is the economic impact of recycling. Not only is it an economic opportunity for profit but it can also be a substantial base of tax revenue for local communities by reducing the tax burden of sending this waste to landfills. Instead, investing in different services, such as PVC recyclers, allows for new jobs and revenue in the grinding, sorting, and bailing of specific materials that aren't currently accepted by mainstream recyclers. By generating income and jobs, it also reduces the spending on landfills, which charge tipping fees and require a vast amount of land. The recycling of mixed plastics also saves energy by 87%, significantly reducing energy costs. There is substantial potential for value in collecting plastic waste and processing it to make new plastics and chemicals. In fact, studies from the Ellen MacArthur foundation show that replacing only 20% of single use plastic packaging with reusable and recyclable alternatives is estimated to be an economic opportunity of at least USD 10 billion.
The Benefits Of Recycling For Your Business
The environmental benefits of recycling are well documented, especially with modern recycling that can also produce an end product that better matches the quality of virgin plastic. In many cases, it is also cheaper to produce goods from recycled plastic than to purchase new ones. The environmental impact of recycling in terms of energy consumption, fossil fuel consumption, water use, and land use is also less than that for producing new materials. For example, the life cycle of recycled LDPE has a lower environmental impact and global warming potential (GWP), which refers to the total contribution to global warming resulting from the emission of one unit of that gas relative to one unit of carbon dioxide. This is noted by a GWP of 0.6 for recycled LDPE and 2.2 for its virgin counterpart. Recycling can minimize your costs by opting for cheaper and recyclable materials or preparing for legislation and fees that could impact you based on your incorporation of recycled content. However, it will also improve your environmental footprint and make your business more appealable to an increasingly sustainable-minded consumer base.
Sales and Imports of Recycling Plastic
According to the Market Research Future (MRFR), the recycling market is expected to grow at 5.82% CAGR in the span of 2019–2028. This growth is driven by brand commitment, demand from consumers, and government regulations pertaining to waste plastics. Europe is deemed as a region that is poised to become the fastest-growing in the market as a result of numerous government initiatives and projects improving recycling facilities and service in Europe. Globally, 71% of consumers will choose a brand they trust is properly handling their environmental impact. Governments are making an effort to reduce plastic waste with there being more than 1,000 laws related to plastic pollution, and plastic being one of the top two environmental, social, and governance (ESG) risks for the global sustainable investment market. Plastic waste statistics show that coupled with increasing consumer awareness, regulations are driving up the supply for recyclers with an estimated growth of 10 percent year-on-year since 2016. However, there is still a large quantity of countries shipping their plastic waste to less developed countries that have less capable recycling systems, with US exports amounting to 25 million tonnes in January of 2021. Despite there being many types of plastic to choose from, some plastics are more widely sought after and exported/imported such as PET, whereas others like HDPE, LDPE, and PP have more of a niche market when it comes to mechanical recycling, which is the norm in most places. This process results in a lower quality material that causes polyolefins to be 20-40% cheaper than their virgin alternatives.
Recycling Creates New Jobs
While policies continue to come into play and large companies make these recycling commitments, supply chains will have to reach more and more companies. For these commitments to succeed, infrastructure has to be addressed as well because more recyclable plastic is needed to supply these companies. According to Closed Loop Partners, the supply of recycled plastics currently only meets 6% of the companies' pledged goals. Thus, to increase plastic recycling globally and transition towards a more circular economy, investments will have to be made to establish the proper infrastructure, which will create new jobs in the growing industry for impact recycling solutions. A study by ISRI (Institute of Scrap Recycling Industries) found that in the US alone, the recycling industry was responsible for 531,500 jobs and an overall economic influx of nearly $110 billion in 2019. This put it at the same level as the radio and television broadcasting, building services, and warehousing and storage industries. Additionally, the study noted that while 164,154 jobs were directly supported by the recycling and brokerage operations of the scrap industry, there were 367,356 jobs indirectly supported by the industry through suppliers and the industry's expenditures.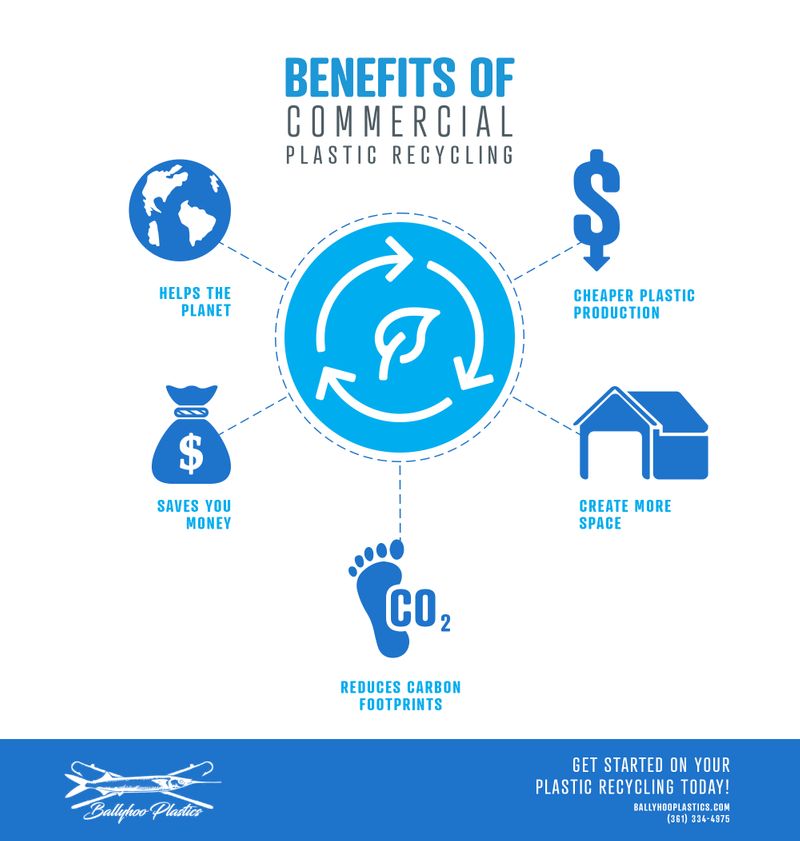 Conclusion
Plastic waste solutions are evolving with new types of plastics recycling being developed with new technology incentivized by government and consumer demand. Increased awareness has allowed more innovation to address recycling methods for the variety of plastic products in circulation such as plastic bag recycling. While single use plastics should soon be a thing of the past and plastic production has to be significantly reduced to achieve a circular plastic economy, the impact of not recycling at all given today's plastic waste generation, is insurmountable. Plastic reprocessing has numerous advantages for businesses, the economy, our own health, and the environment. At MikaCycle we want to be a tool supporting the scaling of plastics recycling by enabling the sourcing and purchasing of quality, traceable recycled plastics for manufacturers and brands